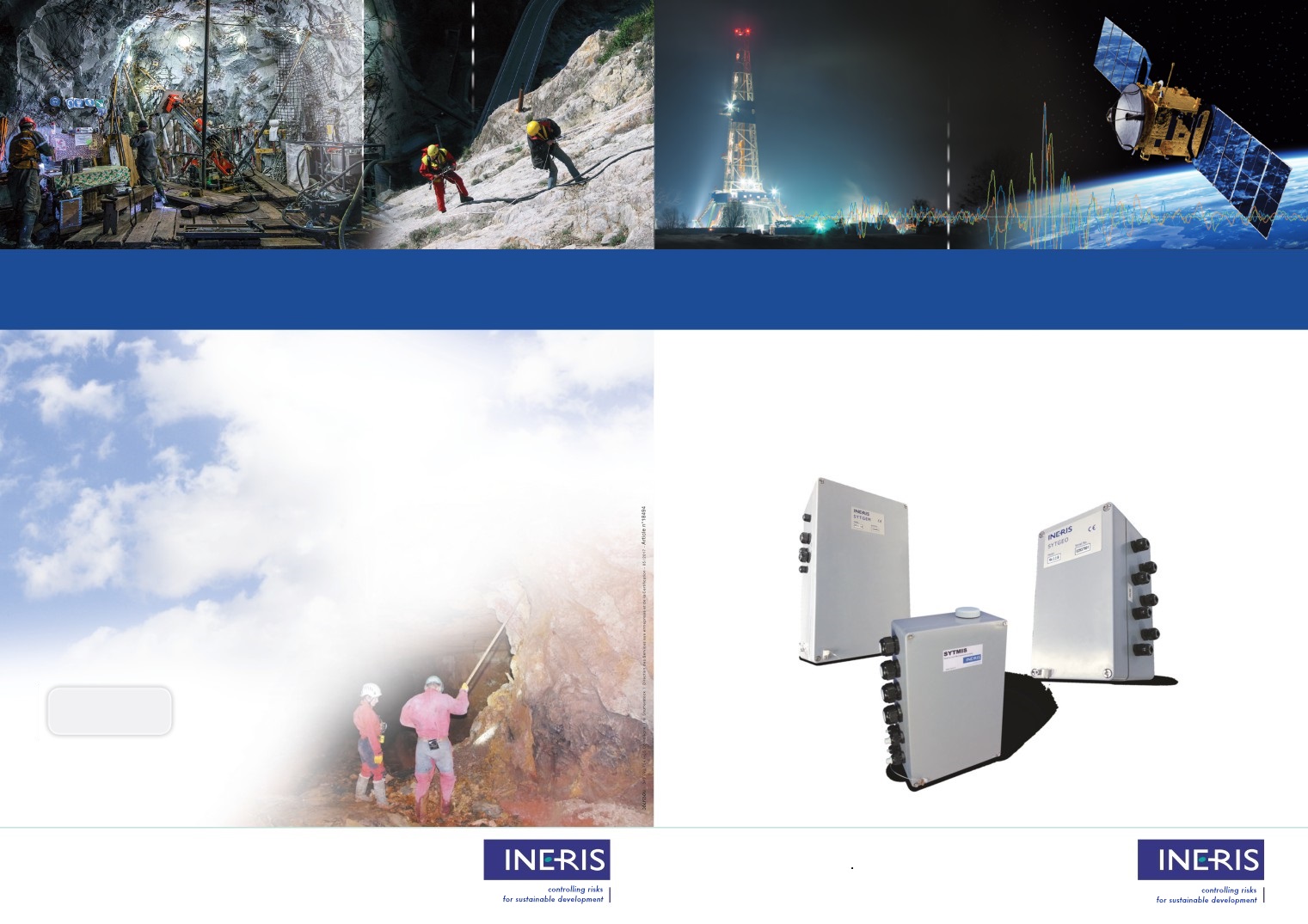 for Geotechnical and Microseismic Monitoring
for Geotechnical and Microseismic Monitoring
INERIS provides a range of products
and end-to-end monitoring solutions to better control subsurface
and underground operations.
Vibration and blast monitoring
Underground waste disposals
Enhanced geothermal systems
Geostructural engineering
Embankment and waste stockpile stability
SYTMIS
®
,
SYTGEO
®
and
SYTGEM
®
are registered trademarks of
INERIS.
Institut National de l'Environnement Industriel et des Risques
Parc Technologique Alata - BP 2 - 60550 Verneuil-en-Halatte - France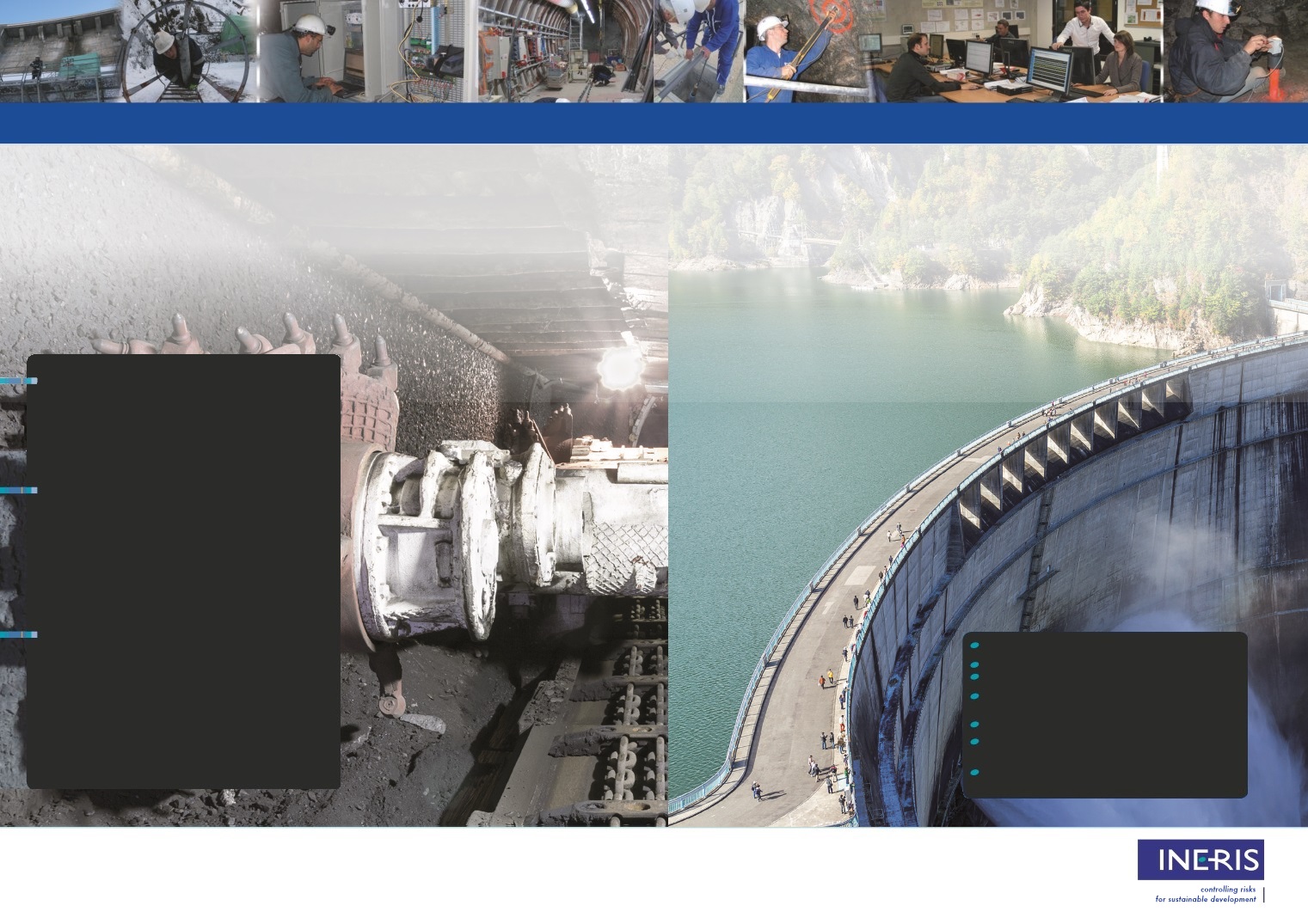 Innovative Technologies for Geotechnical and Microseismic Monitoring
/
Products
SYTMIS
®
, SYTGEO
®
and
SYTGEM
®
acquisition units are field-proven monitoring units at the cutting-edge of technology including advanced features
SYTGEO
®
and
SYTMIS
®
suites are Windows based cost effective user-friendly geotechnical and seismic
for high level flexibility and performance. These technologies are designed to provide custom-made monitoring
software suites, to be used whether in a stand-alone mode or in multi-users office environment.
SYTGEO
®
and
SYTMIS
®
are used extensively in numerous operations worldwide, through research projects
solutions, ranging from local underground areas with stand-alone units to largely extended sites each
and operational services. They offer a unique integration level with the
e
.cenaris
®
web infrastructure
covered by a powerful networking system. They offer advanced remote administration functions
for remote administration of monitoring systems as well as premium management,
and are ready for cloud monitoring technology.
/
quality control, data sharing and reporting services.
SYTGEO
®
and
SYTMIS
®
suites
are available as components of a complete monitoring solution.
.cenaris
®
is a comprehensive secured web-based platform to remote control
simultaneously numerous field monitoring systems and to browse
near-to-real time rough data time series as well as relevant processed variables
through customized advanced plots, catalogs and maps.
is a very low noise, 24 bits digital seismic system
.cenaris
®
enables automated delivery of reports
featuring high sampling rate, 8 channels, managing
on a routine basis, including built-in e.ticketing and
continuous and triggering recording modes in parallel,
reporting system to manage maintenance operations.
is a field centralizer monitoring system for bus cabled
and/or radio linked
SYTGEO
®
and RGPS
SYTGEO
®
digital receivers, for geotechnical, geodesic, hydrological
and meteoric monitoring systems.
SYTGEO
®
receivers
are compatible with most off-the-shelf sensors
with signal standard outputs.
/
combines
SYTMIS
®
and
SYTGEO
®
technologies in a unique
Design and performance
assessment studies
multi-parameter and multi-frequency monitoring system.
Custom-made
monitoring system,
Field installation
and calibration
It offers smart data acquisition protocols to monitor both
Database
management,
Remote
administration,
quasi static measurements and fast transient seismic
maintenance and technical support
signals with innovative self-triggering schemes.
Near-to-real time monitoring, analysis
and reporting
It enables to monitor various different physical
Training
, tailor-made procedures and routine
parameters related one to each other through both
transitory and long term physical interactions.
/
Post processing and Expertise
of geotechnical
and microseismic datasets
Institut National de l'Environnement Industriel et des Risques
Parc Technologique Alata - BP 2 - 60550 Verneuil-en-Halatte - France