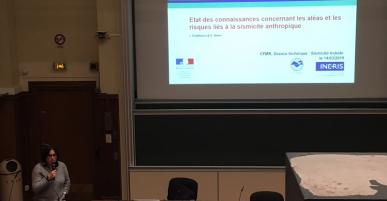 Date :March 14, 2019
Place : Paris
On 14 March 2019, the French Committee for Rock Mechanics (Comité français de mécanique des roches - CFMR) organized in Paris a technical session on induced seismicity.
The committee had been asked to present the state-of-the-art on the link between industrial activity and seismicity, including the involved phenomena and the hazard and risk management solutions. In particular, the objective was to report on a substantial synthesis work achieved in 2017, in the framework of Ineris support mission to the public authorities.
A global view of this issue, as well as study cases in which Ineris is involved, have been illustrated.
⇒ The synthesis report of this study