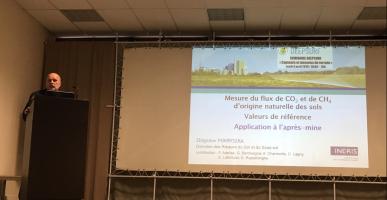 The Institute took part on April 4, 2019 in Nancy, at the first Technical Workshop organized within the frame of the DEEPSURF project. This project, launched in November 2018, is part of the I-SITE LUE program.
Organized by the University of Lorraine, this workshop aimed to share tools and know-how, and to discuss technological barriers and innovations. On this occasion, our experts presented the latest technological developments of the Cloud-Monitoring e.cenaris platform dedicated to the observation and the monitoring of geological and geotechnical risks. They also presented the methodological principles allowing the evaluation of the "Mine gas" hazard with a focus on data collection and expertise.
The research project DEEPSURF is in the frame of energy transition. It brings together industrial and academic partners, around societal challenges associated to new uses of ground and underground environments (geological storage of gas, energy or nuclear waste, exploitation of fossil resources with a low carbon footprint, etc.) and more specifically, the observation of environmental systems and underground geological environments.






Related Reports